Winter Wonderland Laser Lights & Bites
You are here

Winter Wonderland Laser Lights and Bites is back and brighter than ever!
Presented by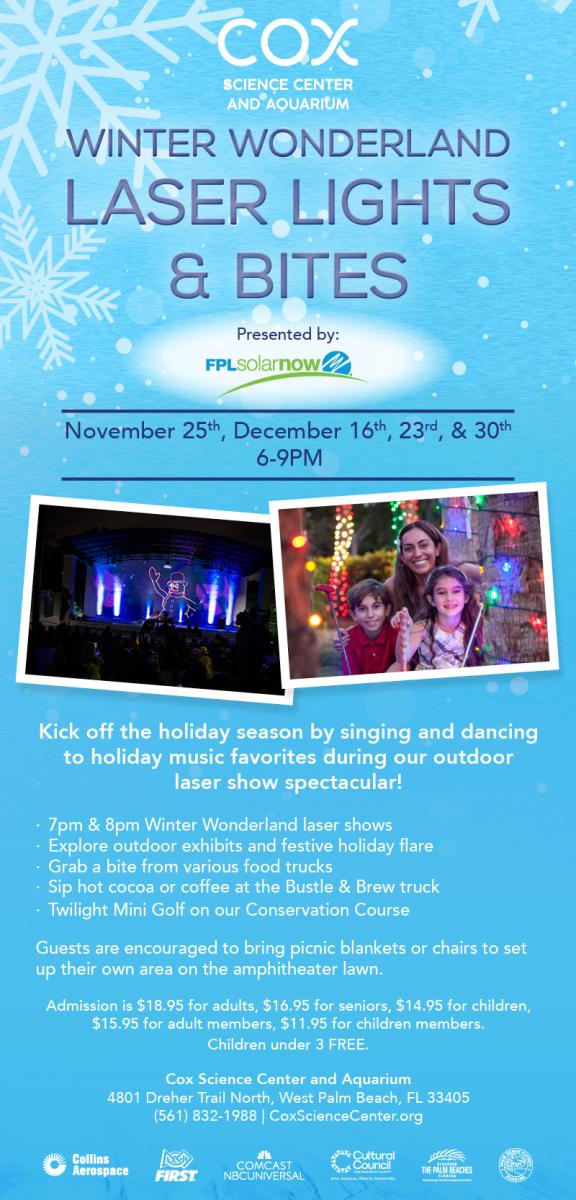 The Cox Science Center and Aquarium is bringing back a family holiday event series that will light up your season!
Guests of all ages can sing and dance along to holiday favorites during our outdoor Laser Concert spectacular. Explore outdoor exhibits, mini golf, and entertainment like never before with dazzling lights, science-themed activities, food trucks, and laser shows on our Cox Amphitheater stage. This year we are thrilled to have our guests experience our festive holiday lighting on the first 9-holes of our golf course, presented by FPLSolarNow!
Admission to Laser Lights & Bites: $18.95 for adults, $16.95 for seniors, $14.95 for children, $15.95 for adult members, $11.95 for children members. Children under 3 FREE.
Event Time: 6:00-9:00PM, Laser shows @ 7:00PM, 8:00PM
Featured Food Trucks: Bustle & Brew, Gimmie Grillin, Taco Time, G's Hibachi
 
Upcoming Laser Lights & Bites events taking place from 6pm-9pm. Check out each date, as they have different food options and activities!
November 25th Acitivites:
- 4CornersCafe Food Truck
- Join Elsa & Anna as we kick off our Winter Wonderland event!
- Face Painting
- Take your holiday photos and meet the one and only, Santa!
- Variety of Winter Themed Crafts and Hands-on Activities
- Solar Activation Station, presented by FPL SolarNow
- DIY S'mores Station
- Enjoy our holiday lights on the first 9 holes of our Conservation Golf Course, presented by FPL SolarNow
 
December 16th Activities:
- Bustle and Brew Food Truck
- G's Hibachi Food Truck
- Face Painting
- Take your holiday photos and meet the one and only Santa!
- Variety of Winter Themed Crafts and Hands-on Activities
- Solar Activation Station, presented by FPL SolarNow
- DIY S'mores Station
- Enjoy our holiday lights on our first 9 holes of our Conservation Golf Course, presented by FPL SolarNow
 
December 23rd Activities: 
- Bustle and Brew Food Truck
- Gimme Grillin Food Truck 
- Taco Time Food Truck 
- Enjoy an Amazing Dance Performance by the Precision Dance Conservatory!
- Take your holiday photos and meet the one and only Santa!
- Variety of Winter Themed Crafts and Hands-on Activities
- Face Painting
- Solar Activation Station, presented by FPL SolarNow
- DIY S'mores Station
- Enjoy our holiday lights on our first 9 holes of our Conservation Golf Course, presented by FPL SolarNow
 
December 30th Activities:
- Bustle and Brew Food Truck 
- Gimme Grillin Food Truck
- Taco Time Food Truck
- Cousins Maine Lobster Food Truck
- Variety of Winter Themed Crafts and Hands-on Activities
- Face Painting
- Solar Activation Station, presented by FPL SolarNow
- DIY S'mores Station
- Enjoy our holiday lights on our first 9 holes of our Conservation Golf Course, presented by FPL SolarNow