You are here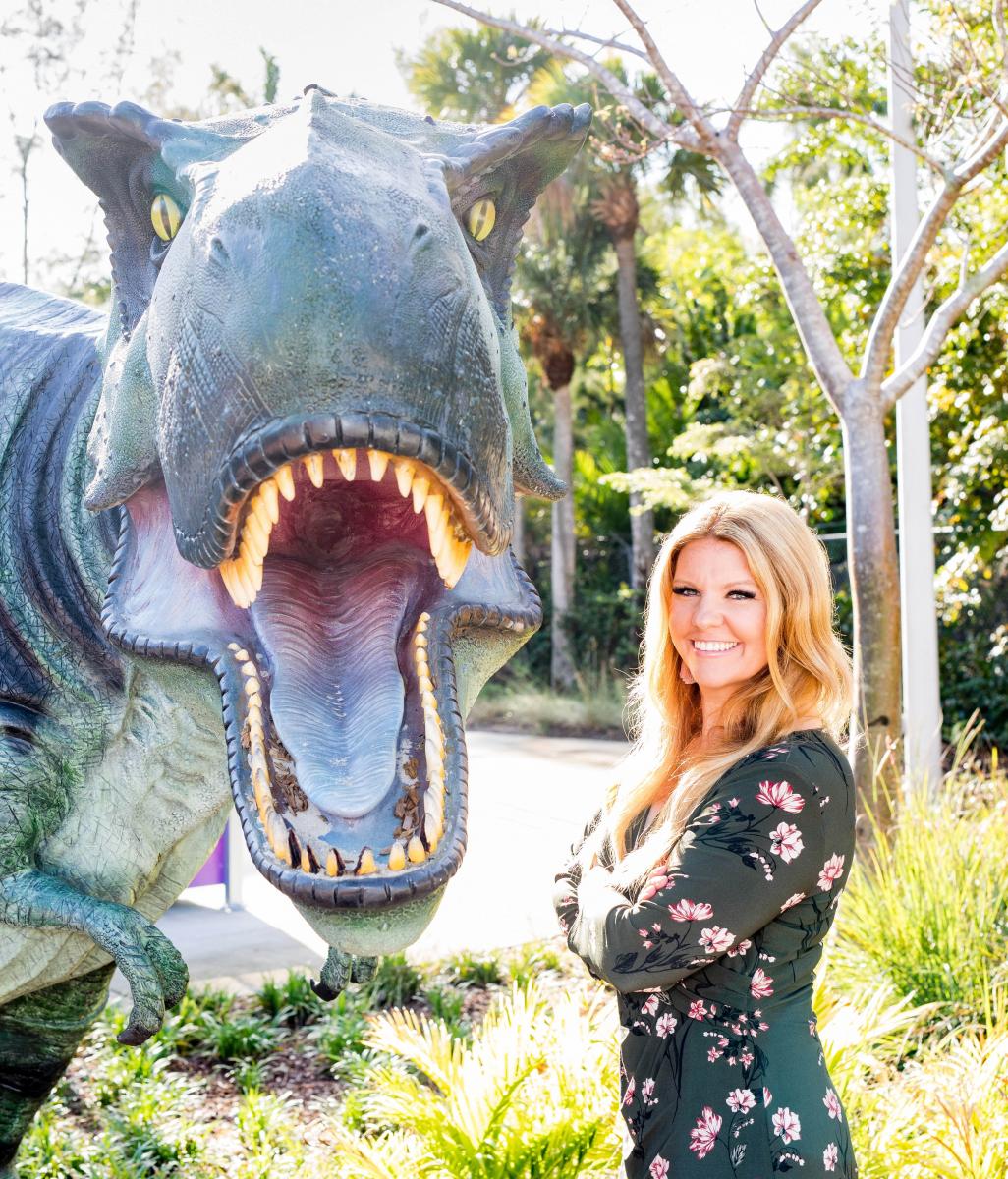 KATE ARRIZZA | PRESIDENT & CHIEF EXECUTIVE OFFICER
karrizza@coxsciencecenter.org    561-370-7706
Kate Arrizza hails from a diverse background. Born and raised in Jupiter FL, Kate was a previous volunteer at the Science Center in the late 90s and a proud product of the Palm Beach County public school system.
After receiving her Bachelors of Science degree from the United States Naval Academy, she served as an Officer in the U.S. Navy for seven years. While in the Navy, she served overseas on the USS Carr, USS Fort McHenry and USS Tortuga; her specialty was education and training in support of Operation Enduring Freedom. She was forward deployed in Asia for 3 years and took part in multiple deployments.  As a Surface Warfare Officer she conducted multilateral exercises including working with foreign Navies training on maritime operations.  Her last duty station was a Naval Leadership Instructor in Coronado California. Upon receiving her honorable discharge from the Navy, she moved back to her home state where she continues to further her career in administration, and obtained her Master's Degree from Johns Hopkins University.
Kate's work at the Science Center over the past 13 years has earned her such recognition and awards as South Florida Business Journal's "40 Under 40" award, Sun Sentinel's Top Workplace Professional Award, Women of Worth Award winner, ESPN's veteran of the month, and PBC Distinguished Alumni Award.  Kate also received West Palm Beach's Hometown Hero Award this past July 4th, 2022.  This award recognizes the selfless efforts of community leaders and organizations for their boundless energy and devotion to the residents of West Palm Beach, Palm Beach County, and the nation.
Kate is a board member of Wounded Veterans Relief Fund, the Forum Club of the Palm Beaches, International Women's Forum, Chamber of Commerce Board of Directors, Forgotten Soldiers Outreach, Dreher Park Neighborhood Association, and United States Naval Academy Blue and Gold Officer. 
CARLA DUHANEY |  CHIEF OPERATING OFFICER
cduhaney@coxsciencecenter.org    561-370-7710
Carla is responsible for coordinating and integrating the functions of all administrative staff at the Cox Science Center and Aquarium. She earned a Bachelor in Science degree in Environmental Resource Management from Penn State University and a Master's in Education degree at Florida Atlantic University.  Carla has over 15 years' experience in science education and environmental education programs within science centers, museums, visitor centers, and nature centers in the Caribbean and the United States. She has extensive experience in designing and implementing educational programs and curriculum for non-profit and government organizations as well as development, delivery, and evaluation of adult training programs.
JEFF GOURDOUZE | VICE PRESIDENT OF OPERATIONS
operations@coxsciencecenter.org    561-370-7771
Jeff Gourdouze manages the daily operations of the Cox Science Center and Aquarium. He oversees the Information Technology department and serves as our Project Manager for construction and renovation projects. Jeff is also responsible for the installation, maintenance, and care of all exhibits, as well as the Science Center's building and grounds and all custodial personnel. A former Court Officer, Jeff also oversees the security and safety protocols of the Science Center and its staff, working closely with all departments to guarantee a safe and enjoyable experience for all visitors.
MELINDA GRENZ | DIRECTOR OF PHILANTHROPY
mgrenz@coxsciencecenter.org     561-370-7723
Born and raised in South Florida, Melinda began her career in non-profit museums after graduating from the University of Central Florida. She gained experience in Science Centers by working on research, program development, and design teams while practicing informal science education daily. She continues to spread her passion for science at the Cox Science Center, her hometown museum, through philanthropy, marketing, and events. She is also a 2018 graduate of the Leadership West Palm Beach program, a member of the Young Professionals of the Palm Beaches, and serves on the event committee for the UCF Alumni Association Palm Beach Chapter.
KRISTIAN ZAMBRANA | DIRECTOR OF VISITOR SERVICES
kzambrana@coxsciencecenter.org    561-370-7703
Kristian Zambrana graduated from the University of South Florida with his Bachelor of Arts degree in Psychology. Kristian started at the Science Center in 2009 as a volunteer and has held many positions with us before joining the Education team as our Camp Manager in 2014. After a decade of service, he now acts as our Director of Visitor Services, where his passion for delivering the best guest experience continues to push the Science Center to new heights.
ESTEBAN PARCHUC | DIRECTOR OF EXHIBITS AND DESIGN
eparchuc@coxsciencecenter.org    561-370-7743
As Director of Exhibits and Design, Esteban oversees the permanent exhibit program and all aspects of design and photography for the Science Center. Esteban joined the Science Center team in 2009 after graduating from Florida Atlantic University with a BFA in Graphic Design. Esteban has been responsible for the rebranding of both the South Florida Science Center in 2013 as well as the more recent Cox Science Center in 2021, graphic design for the Florida Hall, Science Trail and Hall of Discovery, and project management for the Journey Through the Human Brain exhibition.
STEPHANIE DEACH | MARKETING MANAGER
sdeach@coxsciencecenter.org     561-370-7730
Raised between Yorktown and Gloucester, Virginia, Stephanie Gained her B.A. from Virginia Wesleyan University in Virginia Beach. She then went on to gain her M.F.A in Museum Exhibition Planning and Design from the University of the Arts in Philadelphia. She has been lucky enough to work in museums from Pennsylvania, to Virginia, and Louisiana on her path to her current position here in Florida.
 
KRISTINA HOLT | DIRECTOR OF MEMBERSHIP AND SPECIAL PROJECTS
kholt@coxsciencecenter.org    561-370-7740
Kristina Holt is a long-time volunteer of the Science Center, a graduate of Palm Beach State College and a citizen scientist on various conservation projects. She currently manages our membership and family event programs as the Director of Membership and Special Projects. Previously Kristina has worked as an educator, designer and project manager for visual marketing concepts & merchandising. With a passion for teaching young children and life sciences, Kristina continues to be a strong advocate for the Science Center in promoting and instilling the importance of science education within the community.
NICOLE AFANADOR | SPECIAL EVENTS MANAGER & CREATIVE CONTENT ASSOCIATE
nafa@coxsciencecenter.org    561-370-7784
Born and raised in South Florida, Nicole earned her Bachelor's Degree in Supervision and Management with a concentration in General Management at Palm Beach State College. She started as a volunteer in 2012 and become a part of the Science Center team in 2013. Starting as a Visitor Services Representative and a Birthday Party Coordinator, Nicole now serves as the Special Events Manager and Creative Content Associate. Whether it's making YouTube videos or planning events, she hopes to bring the community together by sparking curiosity and a love of science within every mind.
REBECCA FAGO | AQUARIUM DIRECTOR & CURATOR
aquarium@coxsciencecenter.org     561-370-7718
Rebecca Fago brings an extensive background in marine biology and was most recently an animal trainer and performer at Sea World in Orlando.  In addition, Rebecca worked for three years in the Caribbean conducting shark tagging, rescued and rehabilitated injured Green and Hawksbill Sea turtles and hatchlings while also working full time in the Aquarium. Fago has worked in the marine biology field for over sixteen years and has logged over 1,200 hours as a rescue diver; she received her degree from SUNY Albany in Biology with a minor in Music and has an extensive background in Songwriting and Performing Arts from Berklee College of Music in Boston MA.
​CHRISTOPHER PAIT | DIRECTOR OF EDUCATION
cpait@coxsciencecenter.org    561-370-7705
Chris is responsible for educational programs at the Cox Science Center and Aquarium and has been involved with the Education Department for over 10 years. He is a West Palm Beach native who visited the Science Center many times during his younger years.  Experiences like those inspired him to pursue an education in the sciences after graduating high school. He holds a Bachelor's Degree in Music with an outside field in Zoology from the University of Florida and has a Graduate Certificate in Coastal Zone Management from Nova Southeastern University.
CHRISTOPHER ORTIZ | ASSISTANT DIRECTOR OF EDUCATION / STEM NIGHT PROGRAM COORDINATOR
cpait@coxsciencecenter.org      561-370-7702
Although originally from New York, Chris now considers himself a full-fledged Floridian. His passion for the environment and all things nature led him to earn an Environmental Science Degree from Florida Atlantic University. Since beginning his career at the Science Center, Chris has enjoyed sharing his passion for all things science with the community around him. Chris is the Assistant Director of Education and oversees/develops activities that are part of the Education Department's Science and STEM Nights, as well as all Technical Programs.
NATASHA ROCHA | SCIENCE EDUCATOR 
nrocha@coxsciencecenter.org    561-370-7728
Natasha Rocha is a Palm Beach County native and earned her Bachelor of Science in Biology from the University of Florida. Since a young age, Natasha has been interested in educating the public and sharing her passion for science. As part of the Education Department, Natasha facilitates STEM realted programs throughout all of South Florida. She has held multiple roles in the Education Department including having been the point of contact for STEM Studio in Downtown Abacoa from 2018 to 2023.
DEBRA SAMUELS | SCIENCE EDUCATOR / GEMS & GIRL SCOUTS COORDINATOR 
dsamuels@coxsciencecenter.org    561-444-3889
Debra is originally from Los Angeles, California, but now calls Florida home. She started volunteering and working for aquariums and thus found her love for environmental education. Debra earned her Bachelor's in Marine Biology from the University of California at Santa Cruz and since then has been teaching youth the wonders of the sea. While in the Education Department at the Audubon Aquarium of the Americas in New Orleans, she learned how to cater ocean animal education to children and adults alike. Now at the Cox Science Center, Debra brings years of museum experience to South Florida and hopes to explore our coasts and Florida nature. She is the GEMS Program Coordiantor, which brings STEM work fields to the awareness of girls in 3rd-8th grade, as well as our Girl Scouts Programming Liason. 
MAURICIO MORENO | SCIENCE EDUCATOR / FIRST LEGO LEAGUE COACH 
mmoreno@coxsciencecenter.org    561-832-1988
Born in Colombia and raised in South Florida, Mauricio earned his Bachelor's Degree in Computer Animation from the University of Central Florida. Fusing together a passion for art, astronomy, and physical science, Mauricio brings fun and originality to Cox Science Center's Science Camps and STEM Outreach. He has been the Outreach Chairman for the Central Florida Astronomical Society and currently educates at the Cox Science Center Dekelboum Planetarium. Mauricio is also the coach for the FIRST Lego League robotics team during the Fall and Spring Seasons at the Science Center.