Science on Tap: CSI Mythbuster
You are here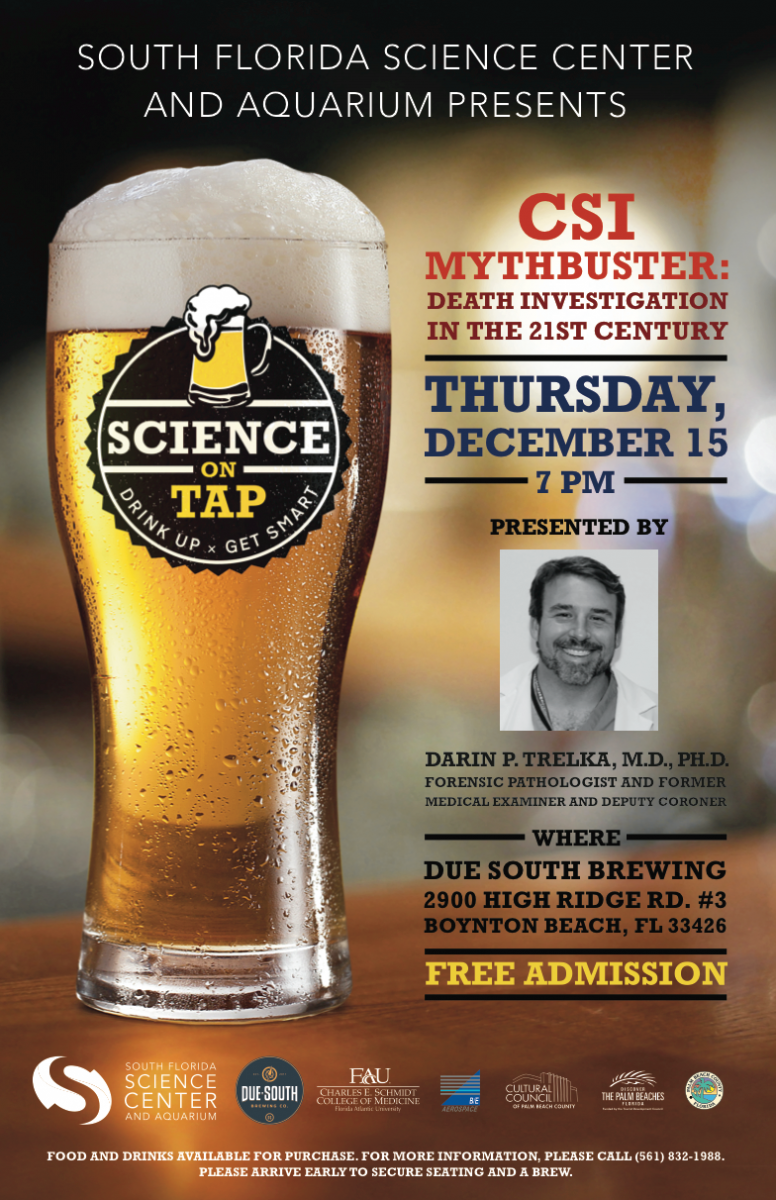 Due South Brewing Co., 2900 High Ridge Rd. #3
Boynton Beach, Florida 33426
Modeled after "Science Cafes", Science on Tap is the only place in Palm Beach County where for the price of a cup of coffee, a quality craft beer, or a smooth glass of wine, anyone can come to discuss the latest trends in science and technology with a world-class scientist. With a motto to 'drink up – get smart,' you know you are in for a casual-education session, as the goal of the program is for guests to have fun while learning a little bit more about everyday curiosities. 
No ticket required -- Admission is FREE! Seating is limited, please arrive early. Presentation starts @ 7pm and runs 30-45min. plus Q-n-A after. Brews and bites available for purchase provided by Due South Brewing and a delicious food truck. 
December Guest Speaker: Darin P. Trelka, M.D., PH.D. Forensic Pathologist and Former Medical Examiner and Deputy Coroner.
Presentation: "CSI Mythbuster: Death Investigation in the 21st Century". 
Doctor Trelka grew up in western Pennsylvania and received a bachelor of arts in psychology from Washington and Jefferson College in 1992.  He went on to earn a Ph.D. in  anatomy, pathology and cell biology from Thomas Jefferson University in 1999 and an M.D. from the Medical College of Pennsylvania-Hahnemann University School of Medicine in 2002.  By 2007, Dr. Trelka had completed a residency in anatomic and clinical pathology at the University of Virginia Health Sciences Center and a fellowship in forensic pathology at the Office of the Chief Medical Examiner of the Commonwealth of Virginia.  Dr. Trelka has worked as a medical examiner in the Commonwealth of Virginia from 2005 to 2007, as a forensic pathologist for the Cuyahoga County Coroner's Office in Cleveland Ohio from 2007 to 2009, and from 2009 to 2014, was employed as an associate-, deputy chief- and interim chief medical examiner at the Broward County Medical Examiner's Office in Fort Lauderdale Florida. Currently Doctor Trelka is an Assistant Professor of Clinical Biomedical Science and Director of Anatomical Programs at the Charles E. Schmidt College of Medicine of Florida Atlantic University. He maintains special interest in medical and forensic education, death scene investigation, and the creation of model medicolegal death investigation systems. Dr. Trelka is the author of scholarly articles and textbook chapters, has given numerous lectures both academically and within local community healthcare systems, is co-author of a forensic histopathology atlas published in 2010 and is co-author of a death investigation textbook, currently in press.
For more information about this event, please call (561) 370- 7740.