You are here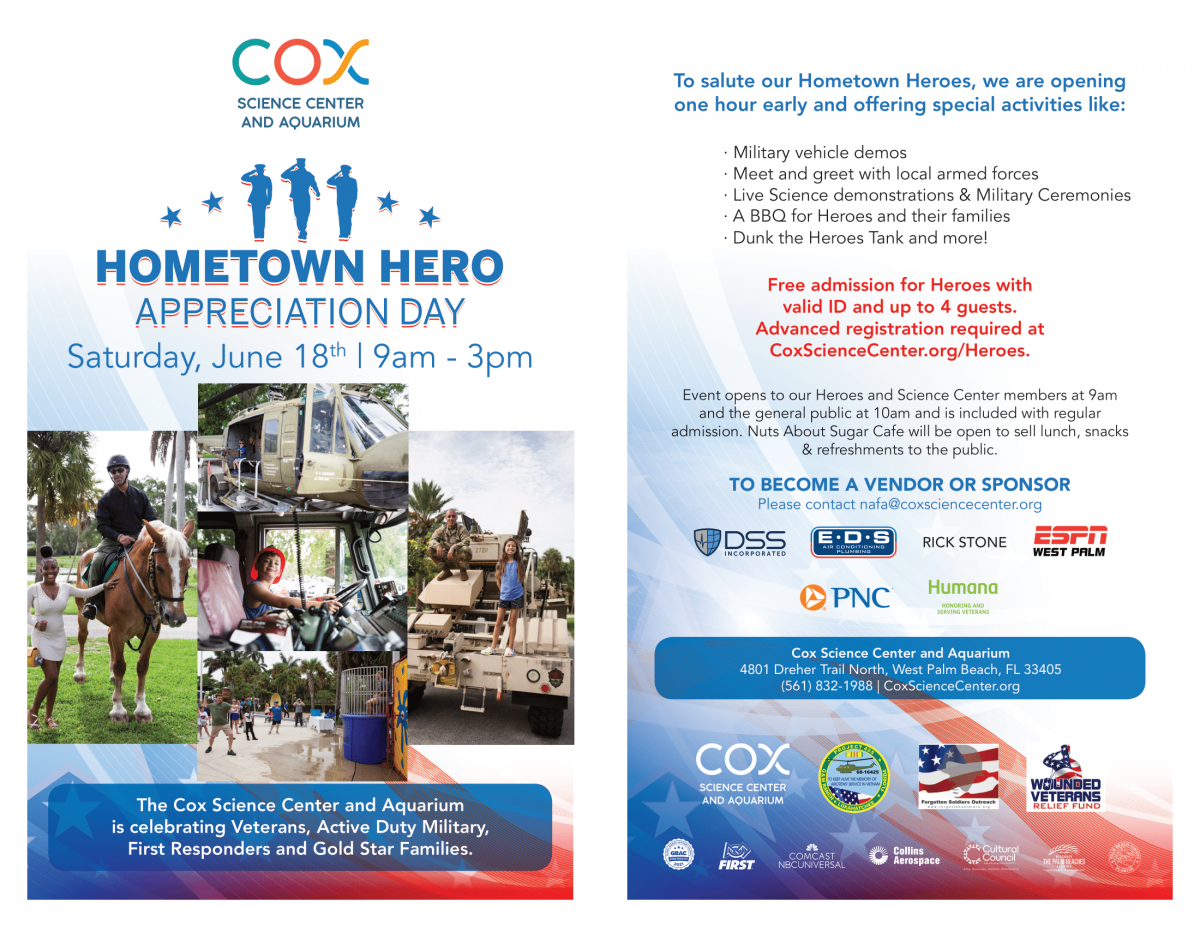 Hometown Heroes include: 
Veterans, Active Duty Military, First Responders, Gold Star Families and up to 4 guests. Heroes must provide valid I.D. 
Program Schedule:
9:45am - Welcome from the Science Center's President and CEO, Kate Arrizza and National Anthem sung by Gabriella Treutle- (Front Plaza)
- Gabriella is from the Young Singers of the Palm Beaches and a Cardinal Newman High School graduate who will be attending the University of Hartford in Connecticut in the fall as a vocal performance major with a focus in opera. 
 
10:00am-1:00pm – Hometown Heroes Mini Golf Contest- (Conservation Course)
- Presented by the Palm Beach Kennel Club. This event is open to all guests and opens at 10am. Guests will be able to play to win prizes until 1pm. All winners will be announced at 2:00pm.
 
10:30am-2:00pm - Dunk the Heroes!- (Science Trail)
- Visit the CSCA raffle table on our Science Trail to purchase a dunk tank ticket. ($5 for 3 tries).
 
10:45am Daily Touch Tank- (Aquarium)
- Join us in our Aquarium to interact with our touch tank animals.
 
11:00am-5:00pm - Planetarium Shows- (Planetarium)
- Limited Seating. Tickets are available for purchase at the Admissions Desk. $5 for adults and children. Members still need a ticket for entry.
 
11:45am - Conservation Conversation- (Aquarium)
- Speak with our Aquarists to learn more about sustainability and our oceans.
 
12:30pm - Surprise Gift from the Science Center's Own President and CEO, Kate Arrizza- (Amphitheater)
- Help us thank our amazing charities by joining our President & CEO Kate Arrizza in presenting a gift to our charity partners!
 
1:00pm-2:00pm - Fish Feeding- (Aquarium)
- Watch our Aquarists feed our fish and alligators.
 
2:00pm - Raffle Winner and Golf Winner Announcement- (Amphitheater)
- Come find out if you are a winner of our amazing raffle items or if you are a winner of our golf competition!
 
2:00pm - Alligator Petting- (Aquarium)
- Touch an American Alligator and learn more about this amazing animal with our Aquarists.
 
2:30pm –Science Demo: Liquid Nitrogen Explosion Grand Finale - (Amphitheater)
- Join us for a frigid farewell as we showcase our Liquid Nitrogen grand finale!
Registration:
Pre-registration is now closed. Heroes may still arrive on event day to enjoy the festivities. Please bring your military or employee ID. 
Thank you for your service! Please register by adding the number of guests (including yourself) to the cart below. You may bring up to 4 complimentary guests. After your order goes through, you do not have to do anything else. Please bring your military or employee ID to redeem your tickets when you arrive on the day of the event.