Willoughby Expedition Team 2022 Encounter
You are here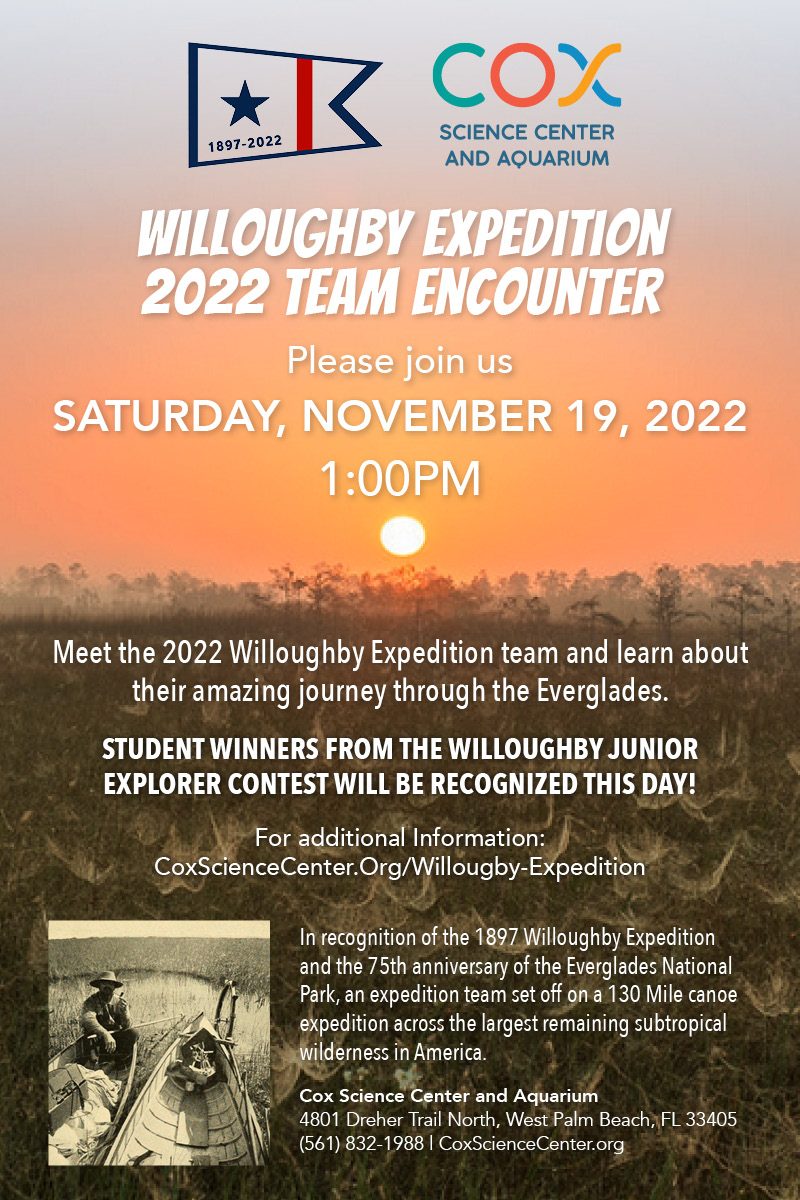 The results are in and congratulations to our winners!
ELEMENTARY
1st Place  –  Jayden Chan with Limestone Creek Elementary
2nd Place – Owen Walborn with Equestrian Trails Elementary
-------------------------------------------------------------------------------------
MIDDLE
1st Place – Alex Martin with Jupiter Middle School
2nd Place – Milo Walker with Jupiter Middle School
-------------------------------------------------------------------------------------
HIGH
1st Place – Shaima Mamouni with Florida Virtual School
2nd Place – Raymond Wong with Suncoast Community High School
WINNERS: Please email kholt@coxsciencecenter.org for future event info and prize pickup.
 
All of us at the Cox Science Center applaud and thank you for your participation in our recent contest held over the past few weeks. We enjoyed hearing about your adventures, thoughts, discoveries or similar projects you all are working on in our local environment.
Winners will be featured on our website at coxsciencecenter.org/willoughby-expedition as well as on facebook.com/coxsciencecenter and contacted shortly with invite to meet the 2022 expedition team in person at the Science Center within the next few weeks. The journey is about to begin (October 27th – November 3rd) and everyone is invited to follow along, virtually. Daily video updates from the expedition team will be uploaded on the Science Center's social media pages and YouTube Channel, plus you can track the expedition crew via this link anytime over the next 8 days.
We hope you will continue to explore, investigate and advance your learning through various STEM projects in the future. Keep up the good work and continue to bring awareness on conservation efforts!
About Willoughby: Explorer and scientist, Hugh Willoughby became the first non-native American to cross the Everglades in 1897. One Hundred and twenty-five years later, the 2022 Willoughby Expedition team will follow the same path and take samples to test for chemistry changes, pollutant substances (specifically microplastics) and modern effects surrounding this vital water system. For more information about the Expedition
The Cox Science Center invites students to share their thoughts and questions with the 2022 Willoughby Expedition Team on the topics of PFAS, microplastics, human impact on the endangerment of the Snail Kite bird and surrounding habitats, discovery of antibiotic resistance genes in the water as well as the importance of water conservation via video presentation submission. At the end of the contest, winning videos by two students from elementary, middle and high school will be chosen to be discussed or answered by members of the expedition team. The winning students will be featured and have the chance to engage with members of the team in person at a future event hosted by the Science Center. Questions about this contest should be emailed to Kristina Holt (kholt@coxsciencecenter.org) or Chris Pait (cpait@coxsciencecenter.org).
 
SPECIAL THANKS TO THOSE INVOLVED!