You are here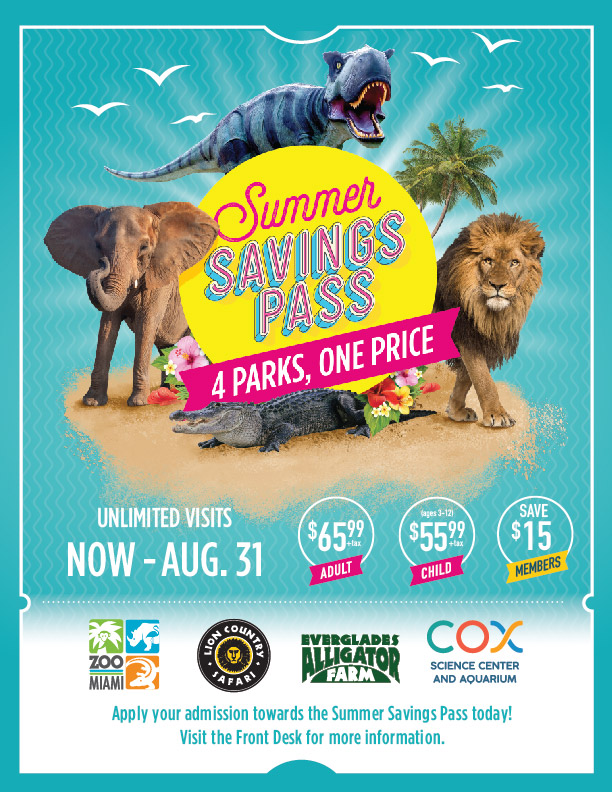 Save time in line! Click HERE to fill out and print your information ahead of time.
Photo ID (for each adult), such as a driver's license or passport, must be presented with Summer Savings Pass (SSP) at each visit. SSP is only valid during regular hours of operation and may not be used for select events or in conjunction with any other discounts or Promotions. Each attraction will only accept the physical SSP card for admission. SSP card must be redeemed at the location purchased. Lost or stolen Summer Savings Passes cannot be replaced. Passes are non-refundable and non-transferable. Management reserves the right to revoke this pass if misused. Pass valid thru August 31, 2023.
Check individual attraction websites for hours, closure of any park amenities, and any other updates prior to your visit.
Click HERE to learn more.
Attention Science Center Members!
You get an even deeper discount on the Summer Savings Pass. $15 off per pass to be exact! Since membership information has to be verified, you can only purchase your Summer Savings Pass at the Science Center.  You must show your Science Center membership and photo ID at our front desk to receive the member discount for the Summer Savings Pass.  Membership must be valid through August 31, 2023, to be eligible for the Summer Savings Pass discounted rate.  Also, only named guests on your account are eligible for the discounted rate.
Summer Savings Passholders will be eligible to receive $15 off an annual Cox Science Center membership at the end of the summer! 
Click Here to redeem your membership through the end of September.