You are here

Join us for an interactive, hands-on workshop to build a car powered by a mousetrap from scratch!
A mousetrap car is a small machine with a mousetrap as its source of power. When the spring is released, the stored energy is transformed into motion. These mini machines are great projects for teaching fundamental skills like measuring, data collection, and designing experiments.
They are also perfect for introducing fundamental concepts in physics and other STEM subjects. The Mousetrap Car Workshops aren't just for students; they are wonderfully suited for educators looking to incorporate STEM projects in the classroom and are aligned with current science standards.
$30 per person, ages 9+ only, please (parents must accompany ages 9-13). Each registration includes one kit.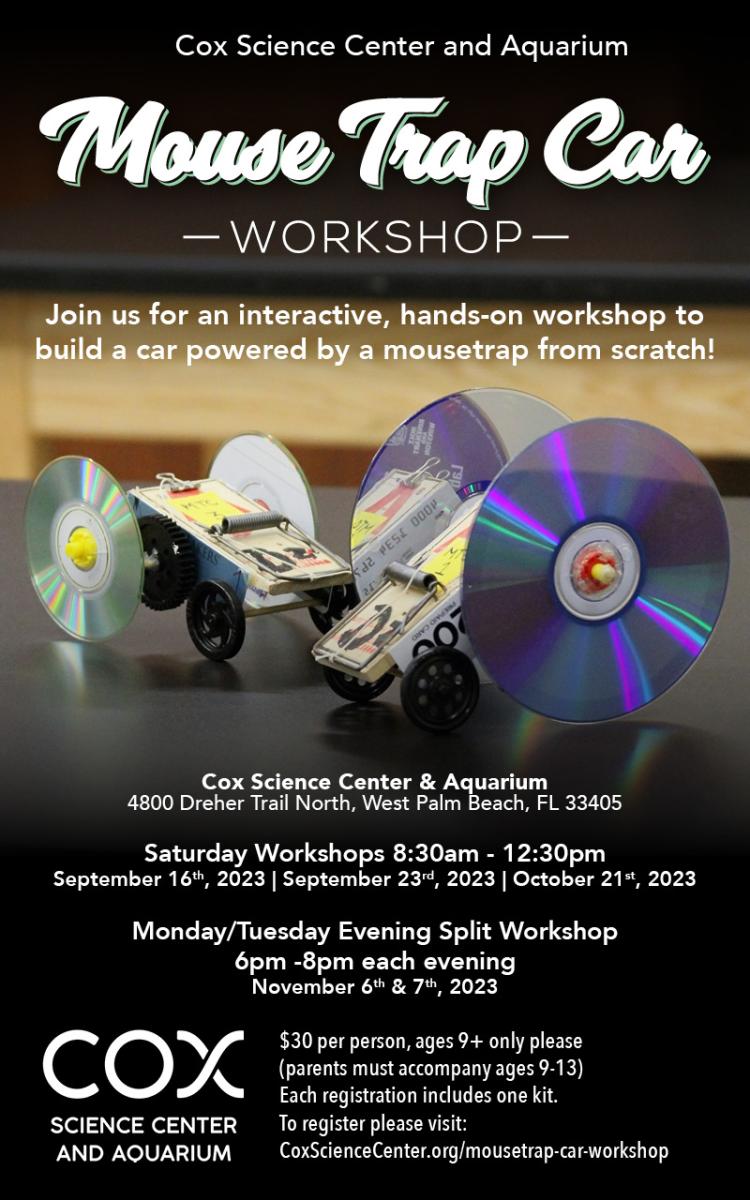 Upcoming Sessions:
All Mousetrap Car Workshops will be held in the Stiles-Nicholson STEM Education Center across the street from the main building.
Saturday Workshops
September 16th, 2023 | 8:30am - 12:30pm
     The September 16th workshop has been cancelled. If you have already registered, we will reach out to discuss your options for your current registration.
September 23rd, 2023 | 8:30am - 12:30pm
October 21st, 2023 | 8:30am - 12:30pm
Monday-Tuesday Evening Split Workshop*
Monday November 6th and Tuesday November 7th, 2023 | 6pm - 8pm each evening
*This workshop covers the same material as the 4-hour Saturday sessions but is split into 2 separate 2-hour sessions. Session 1 will take place on Monday evening and Session 2 will take place on Tuesday evening.