You are here

Dino Fest 2023
Uncover the past with paleontologists and see real fossils from around the world!
March 11th, 2023 10am - 3pm
Hunt for dinosaur eggs, dig for fossils, get hands-on with our Fossil Finders lab, search for hidden treasure, and learn about the quest for fossils with real paleontologists! Other activities include Face Painting, FREE Mini Golf (front 9-holes), and more. The planetarium schedule for March 11th can be found here.  
Dino Egg Hunt Times: 
10:30am - Ages 0-5
12:30pm - Ages 6-12
The Dino Egg Hunt is an additional $5.00/child.  REGISTRATION IS NOW CLOSED. SEE YOU AT DINOFEST!
Presentation Schedule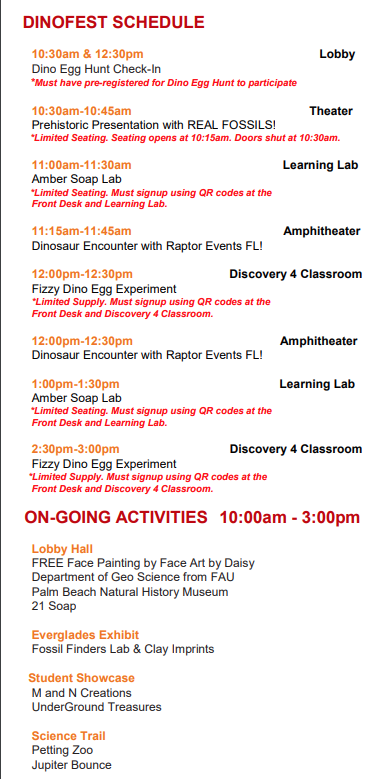 Theather - Limited Seating - All Ages Welcome
12:30pm - "Raptors: the Adorable 'Murder-chickens" of the Mesozoic"
Presented by Robert DePalma, Adjunct Professor, Geosciences Department, FAU.
1:30pm - "Breathing Life into a T. Rex"
Presented by Greg Erickson, Professor of Anatomy and Vertebrate Paleobiology. Curator, Florida State University Biological Science Museum. Co-Director of the Paleo-Arctic Research Consortium.
2:30pm - Diggin' up Dinosaurs Panel Discussion
Learn all about the dinosaurs within our exhibit and get your questions answered by these experts.
Planetarium Schedule
Limited Seating. Purchase tickets at the admission desk. $5 for guests & Free for members
11:00am - One World, One Sky: Big Bird's Adventure
12:00am - Sea Monsters: A Prehistoric Adventure
1:00pm - One World, One Sky: Big Bird's Adventure
2:00pm - Night Skies Over the Palm Beaches
3:00pm - Dinosaurs Alive!
4:00pm - Two Small Pieces of Glass
5:00pm - Dynamic Earth
This event is included with paid Science Center admission and FREE for members: $20.95 for adults, $18.95 for seniors 60+, 16.95 for children 3-12, and free for children under 3. Tickets can be purchased at the admissions desk.
If you'd like to be a vendor at this event, email nafa@coxsciencecenter.org
For more information call 561-832-1988.