You are here

Saturday, April 15th, 2023
We are pleased to announce that the 36th Annual Engineer It! Competition will be held in person at the Cox Science Center and Aquarium!
Engineer It! is an annual engineering design competition jointly presented to students in grades 1st - 12th by the Florida Engineering Society & the Cox Science Center and Aquarium. $5,000 in cash and prizes awarded to winners in elementary, middle and high school categories! 
2023 Competition Categories:
The perfect egg container to protect it from a 3-story fall (Drop It)
A thrilling roller coaster (Thrill It) 
Build a perfectly buoyant boat (Float It)
The ultimate water bottle rocket (Launch It)
DIY Water filtration (Clean It)
Sun powered watercraft marathon (Power It)
 
Drop It
Launch It
Thrill It
Float It
1st Place Elementary
Jayden Chan
Andres Suarez Paz and Devin Veras
Valentina Sanchez
Gavin Chan
2nd Place Elementary
Gavin Chan
Cloie Richie
Jaden Chan
Fabian Vega Varga
3rd Place Elementary
Thalia Paulino
Thalia Paulino and Olivia Carhart
Paxton Fusselman
Jayden Chan
1st Place Middle
Mariam Andrews
Zaina Ahmed
Nevan DeBerry
Zaina Ahmed
2nd Place Middle
Erik Kieft
Nevan De Berry
-
Nevan DeBerry
3rd Place Middle
-
-
-
-
1st Place High
Lily Landstrom
Malik Henry

Julian Greenberg, Semyon Baykov

Logan Albala, Spencer Arensollic

Zenat Ahmed
2nd Place High
Lewis DeBerry
Angelo Avila
Lily Landstrom
Alexandria Allen
3rd Place High
-
Zenat Ahmed
Lewis DeBerry
Lewis DeBerry
Congratulations to our winners and thank you to all of our participants for making this a wonderful event! Winners can pick up their awards at the Science Center during business hours starting Friday, April 15th.
Engineer It! 2022 Recap and Awards Video
Please click here for the rules and regulations.
Competition Schedule:
| | |
| --- | --- |
| 7:00 am - 8:30 am | Check-In |
| 9:00 am | Competition Starts |
| 12:00 pm - 1:00 pm | Break |
| 1:00 pm | Competition Resumes |
| 3:00 pm  | Competition Ends |
Register as an individual or team at the bottom of this page.
Registration is $5 per participant and will automatically shut down when we hit 200 students, or on April 7th, whichever comes first. 
To register a school group, click here. Email the completed form to programs@coxsciencecenter.org.
Questions? Email cpait@coxsciencecenter.org or call (561) 370-7705. 
Other important details:
You may be photographed for Science Center media purposes throughout the competition. By registering to compete, you are giving photo consent. If you do not wish to be photographed, notify the staff members at the registration tent when you arrive.
PLEASE CARPOOL if you can as parking is limited.
Click here to download a FREE Bin Pass from Resource Depot, your 1-stop shop for all Engineer It project materials! 
If you are interested in sponsoring this event, email nafa@coxsciencecenter.org
If you are interested in being a vendor, email events@coxsciencecenter.org.
Our volunteers play a crucial role in helping out on event day. If you are interested click here to apply.
2022 Event Sponsors - 2023 Sponsors Coming Soon!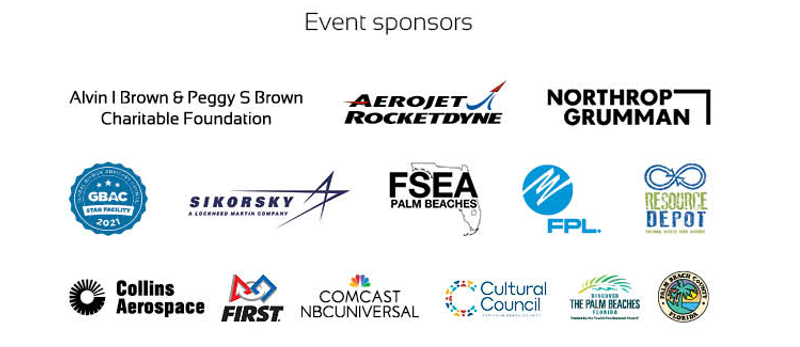 View highlights from previous competitions:
**Before you register** Please note that once your order goes through, your name is automatically added to our registration list and you do not need to do anything else. You should receive a confirmation email with your order number. Check-in at the registration tent when you arrive.