You are here
Join the Cox Science Center as they participate in the upcoming 7th season of FIRST LEGO League Competitions!
Due to current health concerns, CSCA will not be hosting an FLL team this season. We continue to proudly support and promote FIRST programming in South Florida and look forward to fielding a team again in the 2022-2023 season.
For more information on the 2021-2022 season and all FIRST activities in South Florida please visit FIRST LEGO League's South Florida Regional affiliate at 
www.southfloridarobotics.org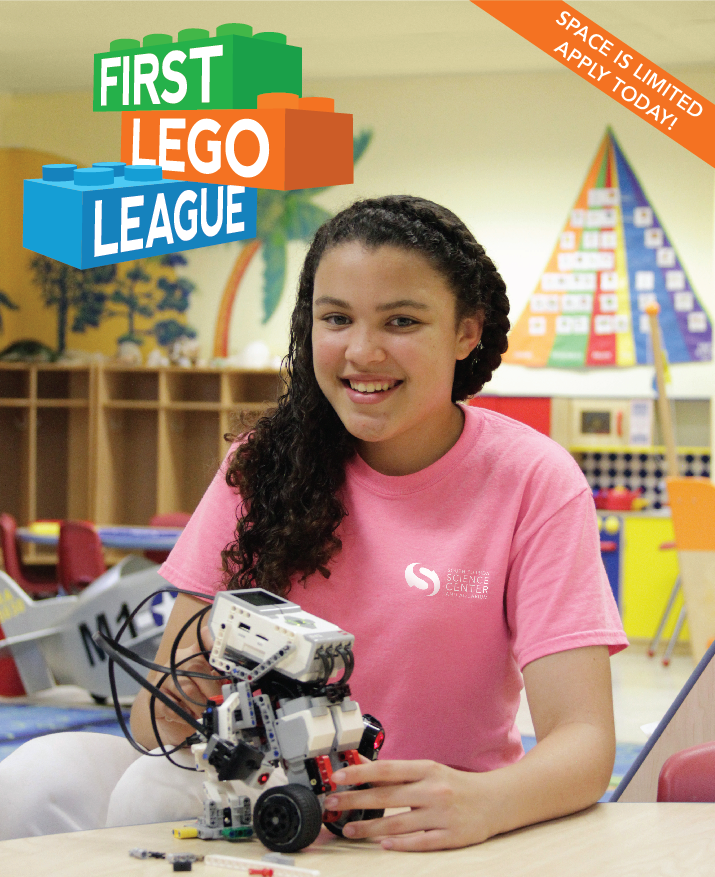 What is FIRST LEGO League?
Tomorrow's innovators practice imaginative thinking and teamwork. Guided by two or more adult Coaches, FIRST LEGO League teams (up to 10 members, ages 9-14) research a real-world problem such as food safety, recycling, energy, etc., and are challenged to develop a solution. They also must design, build, program a robot using LEGO MINDSTORMS®, and then compete on a table-top playing field.
It all adds up to tons of fun while they learn to apply science, technology, engineering, and math concepts (STEM), plus a big dose of imagination, to solve a problem. Along their journey, they develop critical thinking and team-building skills, basic STEM applications, and even presentation skills, as they must present their solutions with a dash of creativity to judges. They also practice the Program's Core Values, which emphasize discovery, teamwork and good sportsmanship.
Who can participate?
The really cool thing about FIRST LEGO League is…all skill levels are welcomed and needed, technical or non-technical. Teams need all kinds of skills and creativity to succeed, so what are you good at? Chances are there is a job for you. And you'll probably learn a few new skills while you're at it.
Youth team members are encouraged to bring any skills or interests they already have, but most importantly a desire to learn and solve problems as a team. FIRST LEGO League welcomes every student, with or without special skills.
For more info on FIRST, and  FIRST LEGO League, please visit: https://www.firstinspires.org/robotics/fll.
Our FLL team meets on Monday nights from 6:00pm - 8:00pm during the FLL season starting Fall 2022. The regular season typicaly runs from Aug/Sep - Dec. Qualifying tournaments take place on weekends during Dec/Jan with regional and state championships typically being held in Feb/March.
Cost: A $50 membership fee will be due at the first session and can be paid with cash, check or credit card. 
Questions should be emailed to cpait@coxsciencecenter.org.